February 2020
How to Have a Great Time in Park City
Being smart about your daily vacation activities can transform even the shortest trip into a rejuvenating holiday. Whether it's hiking in the Wasatch Mountains, flying down the fastest of ski runs or simply swapping a burger for a meal that's packed with vitamins, follow our list for the best ways to recharge during your next Park City vacation.
Get Outdoors
There's nothing like hiking through a field of wildflowers or tromping across mountain ranges to clear your head, and the popular Rob's Trail walking route is a perfect de-stressor. The starting point of this moderately easy trail is on Bear Hollow Drive — just a five-minute car ride from Sunrise Lodge, a Hilton Grand Vacations Club.
Follow the well-signed, gently sloping trail as it winds its way through shady pinewoods, past the city's iconic aspen trees and up to an overlook, where hikers are rewarded with jaw-droppingly beautiful views over Park City's resorts. The return trip will take an hour or two, after which you'll deserve a post-hike refuel of grilled trout with sweet potato hash at Vessel Kitchen on Uinta Way.
Hit the Slopes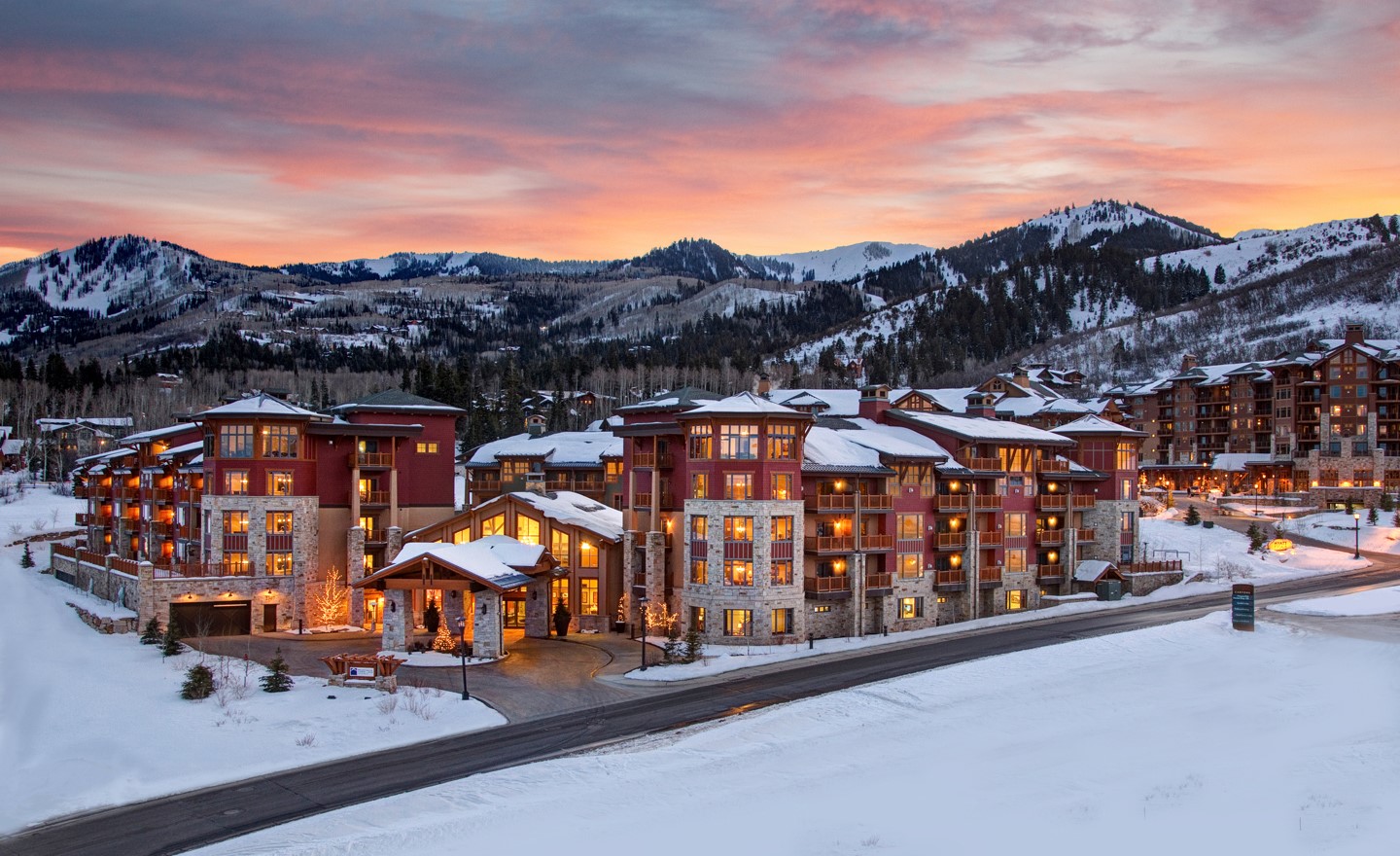 Home to Sunrise Lodge by Hilton Grand Vacations, Park City is one of America's premier ski resort destinations.
Skiers flock to Park City for its postcard-perfect slopes, lengthy season and sleek infrastructure. Canyons Village is the ultimate low-key ski village, the streets dotted with adventure outfitters, ski rental stores and alpine-style spas. Start the adrenaline pumping by skiing straight from the Sunrise Lodge (pictured above) lobby to the Sunrise Lift, which will whisk you to the top of Canyons Resort, where both beginner-friendly runs and thrilling downhills await.
Serious skiers can ski and chair over to the Park City side of the resort, where exhilarating double black runs include McConkey's Bowl and Blueslip Bowl. Those a little less experienced (or feeling the thigh-burn) can take the more leisurely intermediate Georgeanna Trail, which offers views over the whole resort.
On the way back to Sunrise Lodge treat yourself to a stop at The Farm, a rustic mountain lodge in Canyons Village serving dishes like house-made paté, duck and wild mushroom cannelloni, and over 400 hand-selected wines.
Owner Tip
Park City is one of America's premier ski destinations. Club Members who own inventory at Sunrise Lodge during Platinum Season should book their Home Week as early as the reservation window allows.
Go Swimming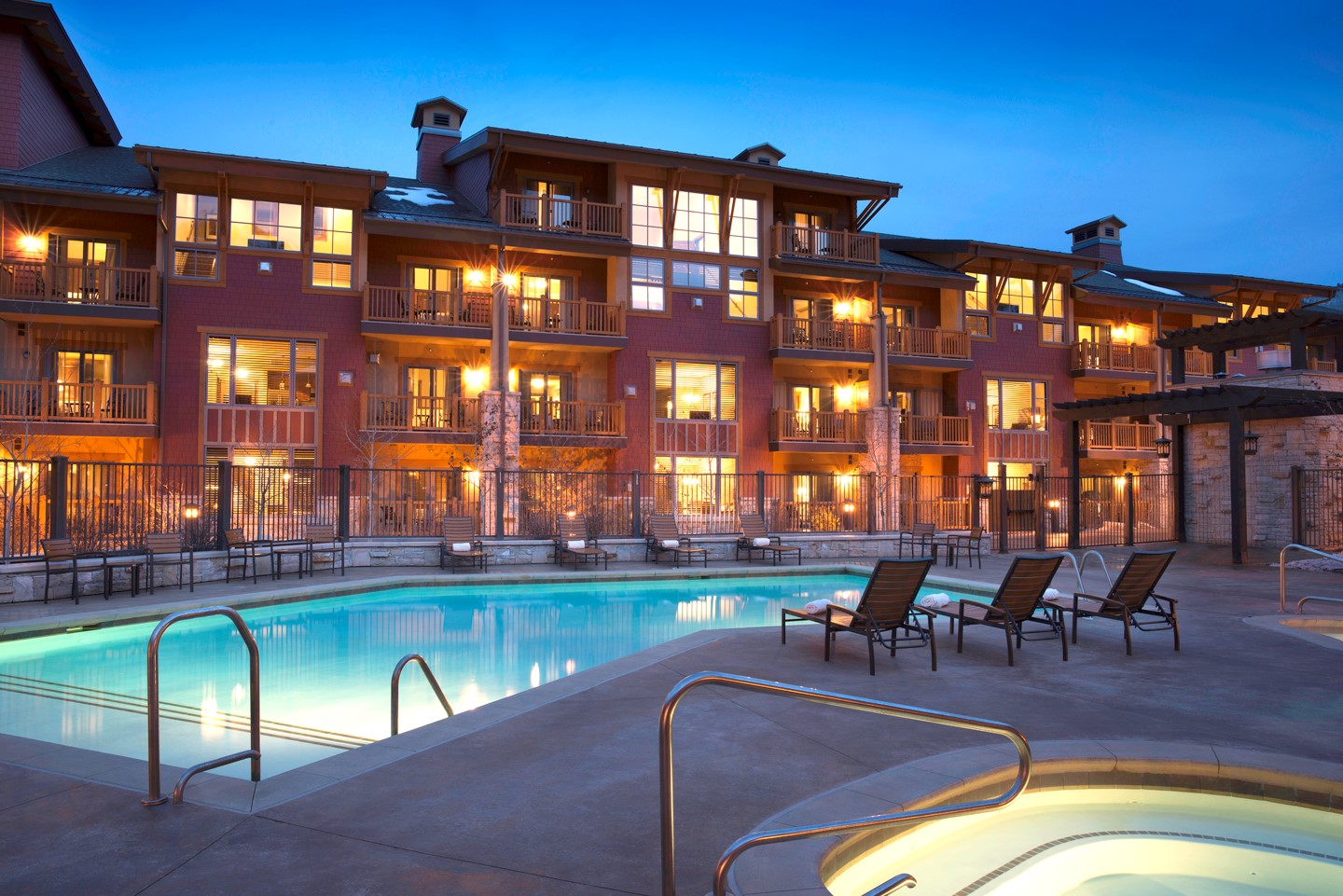 The heated outdoor pool at Sunrise Lodge
There's something therapeutic about being in the water, whether it's soothing any post-ski aches away with a dip in a hot tub or taking time out for laps at the resort's pool, which is open year-round. Pack some waterproof earbuds and turn up the classical music for some extra relaxation.
Eat Well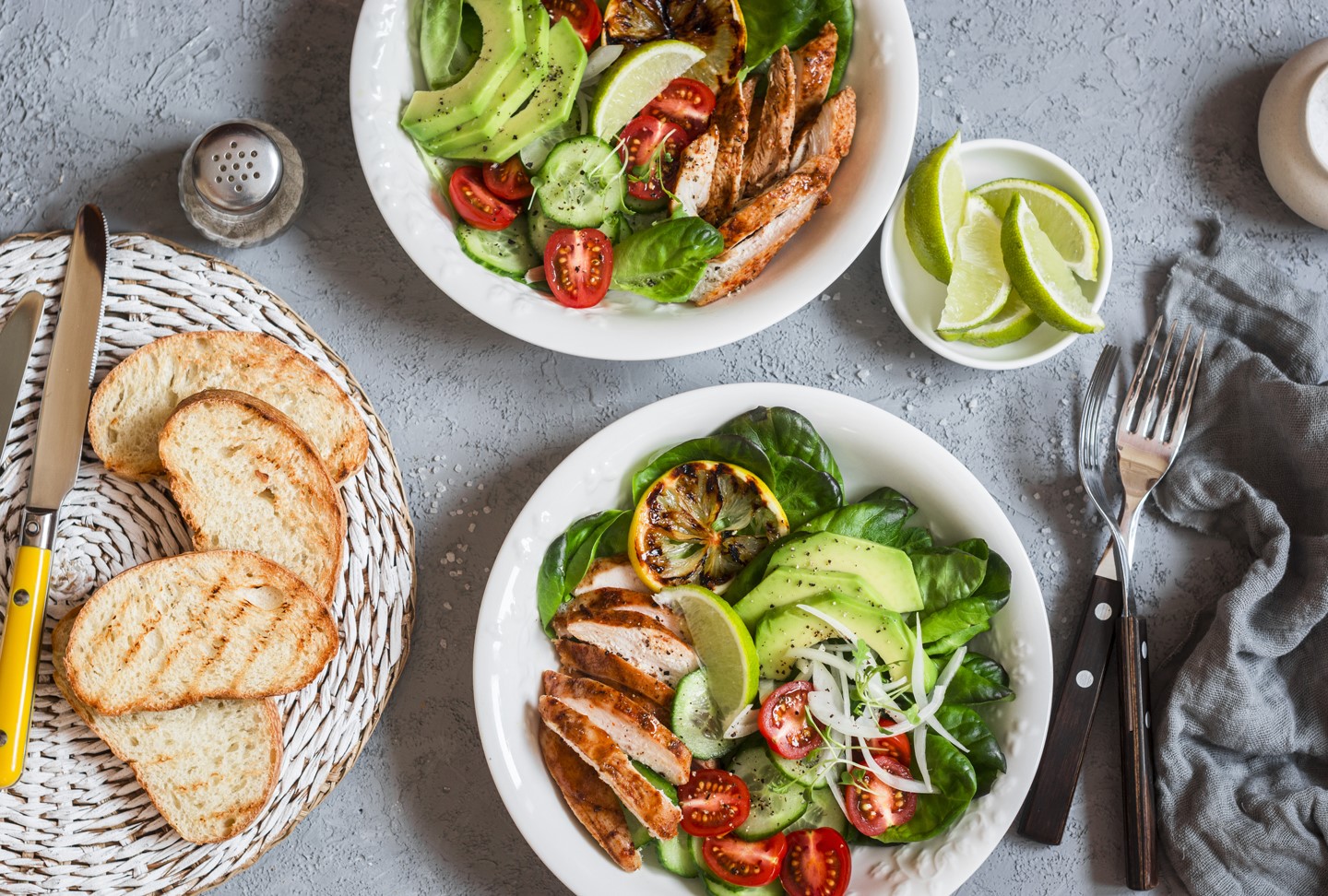 Preparing fresh meals is a great way to stay healthy on holiday
Photo by Kiian Oksana/Shutterstock
It's not always easy to eat healthily on vacation, but preparing meals in your room kitchen is a great start, according to Audrey Watkins, nutrition specialist and owner of Elevate Nutrition & Fitness in Park City.
"I recommend planning ahead and having healthy snacks like nuts, fruit and vegetables in your room or on-hand when traveling," she recommends. "If you're going out, look ahead at restaurant menus and explore local markets to find healthy local cuisine you can cook in your room. Also, don't forget to drink plenty of water and make sure your trip refuels your body and spirit, so you return home relaxed and refreshed."
Vacation Tip
Suites at Sunrise Lodge have fully-equipped kitchens, complete with a stove, fridge and blender. Pick up fresh produce at one of the grocery stores in downtown Park City, easily accessible via the resort's complimentary shuttle service.
Have a (Guided) Adventure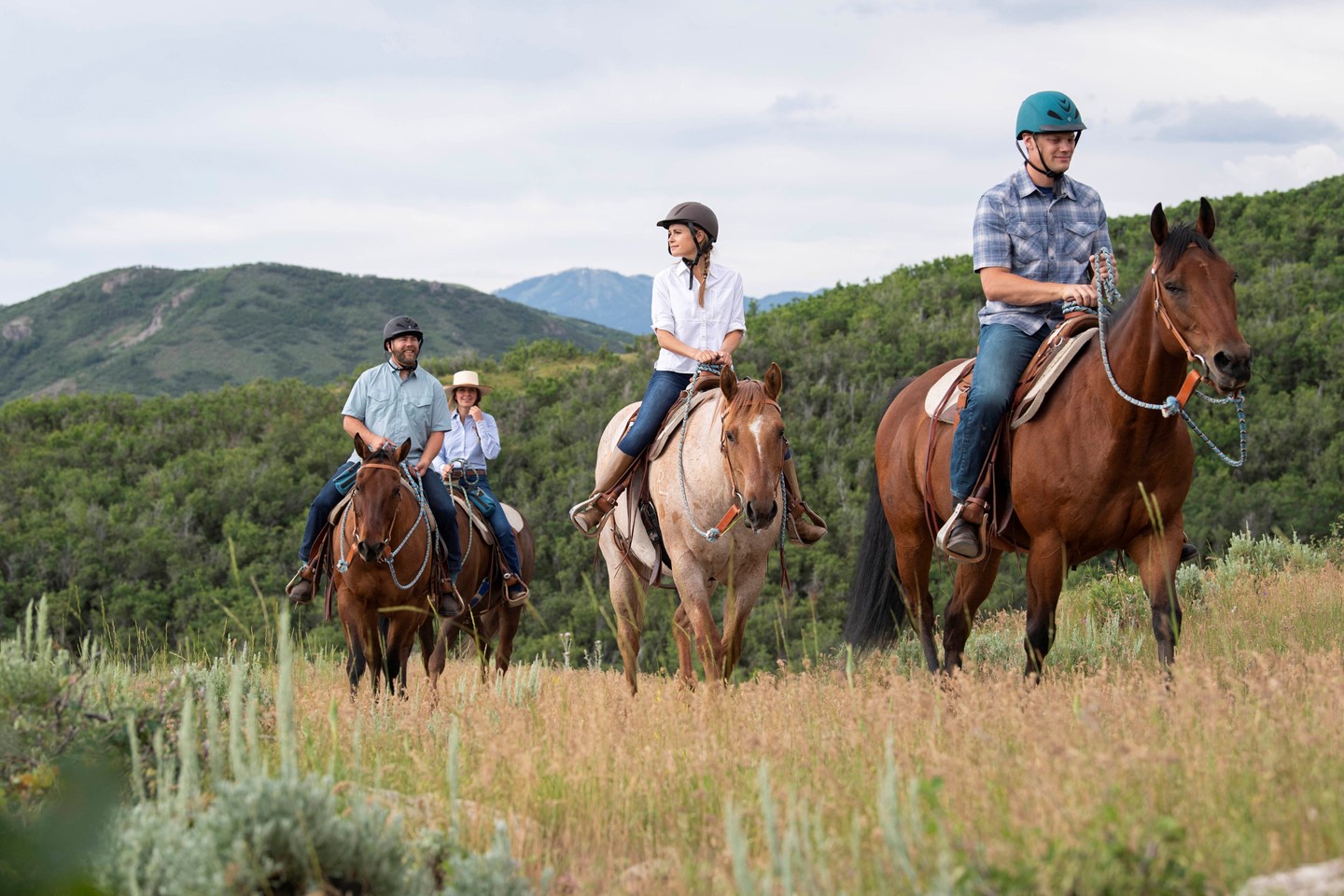 Horseback riding in Park City's mountain countryside
Photo by Visit Park City
For something a little more energizing, there are several options in the area, for example horse-back riding with All Seasons Adventures, White Pine Touring or Red Pine Adventures, just within easy reach of Sunrise Lodge.
Snow bunnies can take a break from skiing with a snowmobile tour, taking in the best backcountry runs and fluffiest of powder stashes, while those visiting in the summer months will love horseback riding down secret mountain trails, darting across rivers and charging through the steepest of canyons. There's also dog sledding, fly fishing and even yurt camping.
Try Yoga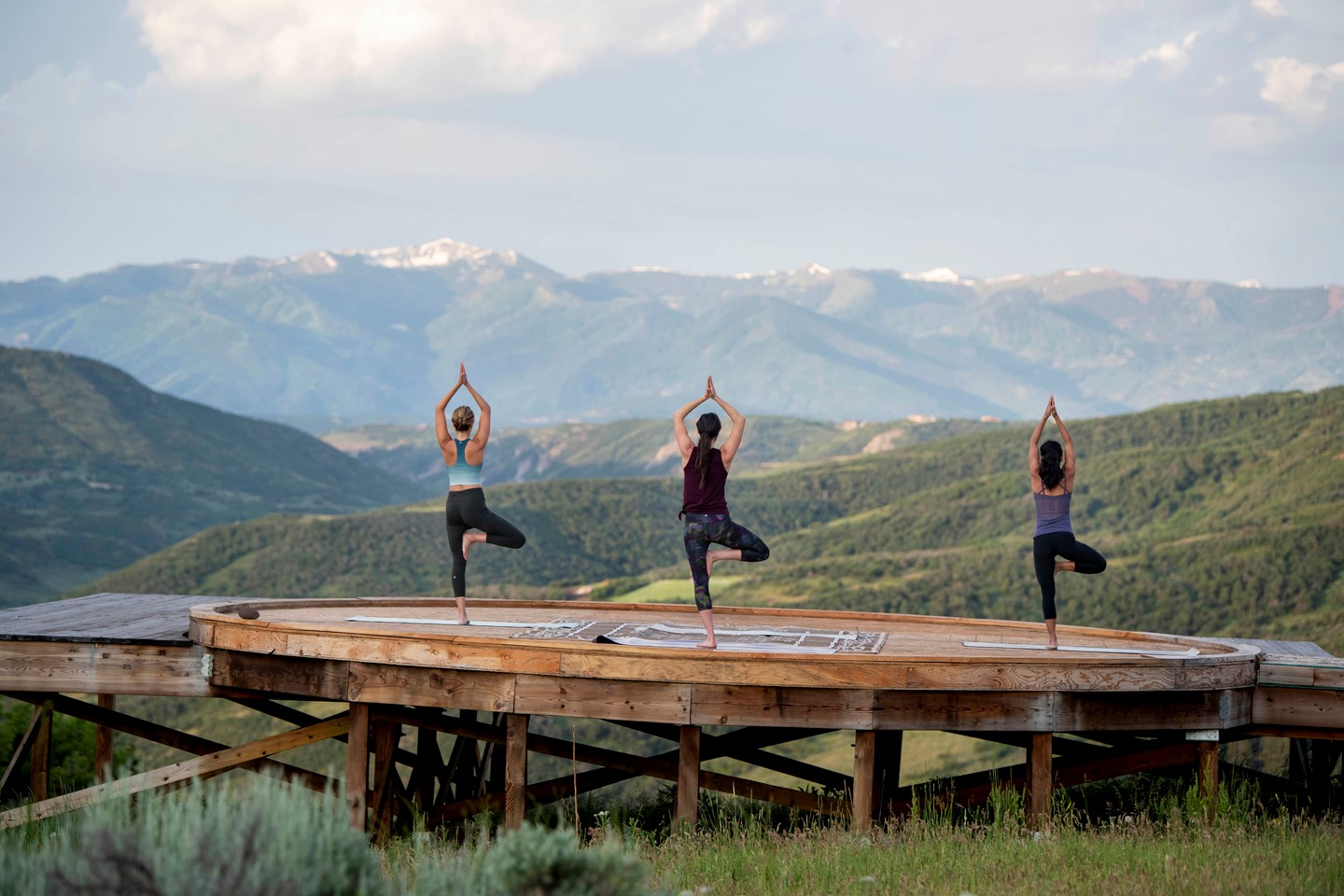 Yoga in the great outdoors is rejuvenating for the soul
Photo by Visit Park City
Whether you're wanting to increase your flexibility or calm your mind, even just 15 minutes of yoga has a myriad of benefits. Apps such as Ashtanga Yoga and Down Dog offer online yoga classes and routines you can tailor to your level of experience and length of time. Why not take advantage of the outdoor location and try an online yoga class outdoors?
Be … Still
Taking time out to be mindful during vacation can be beneficial to your health and happiness while traveling. Popular app Headspace offers free-guided meditation sessions you can access at any time of the day. The language used is clear and accessible — no third eyes or chakras here — adding to its appeal for those still finding their zen.
Act Now
Spend your time well at Sunrise Lodge. If you book today, you'll find availability between May and October 2020. Before you make a reservation, check out the property's Points chart here.
Top: A skier hits the slopes in Park City, Utah Photo by Visit Park City
HGV Destinations