Resort Overview
2255 West Gulf Drive, Sanibel Island, Florida 33957
Check In: 3:00 PM / Check Out: 10:00 AM
Home Week Check In: Friday
Important Information
Resort Not Bookable
Reservations cannot be booked online. Please contact a Club Counselor to make a reservation.
Accommodations
Only active Club Members can view available dates
-
Size sqft
Accommodates guests
Floorplan
Hearing Accessible
Mobility Accessible with Roll-in Shower
Mobility & Hearing Accessible with 3'x3' Transfer Shower
Mobility Accessible with Bathtub
Mobility & Hearing Accessible with Roll–in Shower
Mobility & Hearing Accessible with Bathtub
Resort Details
Amenities & Features
Accommodations
Resort Features
Address and Contact Info
+1 239-395-1876
Things to Do
Coconuts Poolside Bar & Grill
Snacks, Drinks
On-property
At Coconuts, enjoy a relaxed poolside settingwhere you can choose from a tempting array of burgers, crisp salads, grouper sandwiches, and frozen drinks. Enjoy beautiful views of our lush green lawns, swaying coconut palms, and the turquoise waters of the Gulf without having to change out of your swimsuit. Be sure to stop by on Saturday and Sunday afternoons to enjoy fresh beachfront dining along with live entertainment.
239-472-3145
Doc Ford's
Caribbean
975 Rabbit Road Sanibel, FL 33957
Doc Ford's offers mouth-watering Caribbean-inspired cuisine in a casual atmosphere, with specialties including Yucatan shrimp, a lime- and panko-crusted fish sandwich, and the Martinque-jerked pork chop.
239-472-8311
Thistle Lodge - Lunch
Floridian, European, Asian
2255 W Gulf Dr. Sanibel, FL 33957
The award-winning Thistle Lodge Beachfront Restaurant is recognized as one of Sanibel Island's most romantic restaurants and has served its share of famous guests from Thomas Edison to Henry Ford. Enjoy an irresistible menu of epicurean delights that feature Floridian, European, and Asian influences while overlooking the Gulf of Mexico. Swaying palms and gently breaking waves create a memorable backdrop for beachfront dining on Sanibel Island.
239-472-9200
Big Arts
Big Arts guests can enjoy a wide spectrum of performing and visual arts events and participate in more than 250 educational classes and workshops. Relax in the beautiful garden,view the art in the galleries,visit the gift shop, and learn about the variety of events the island's dynamic cultural arts center has to offer.
The Sanibel Day Spa
Located just minutes from the resort, the Sanibel Day Spa is a luxurious spa offering a full menu of pampering treatments designed to leave you feeling completely renewed. Revive tired muscles after a day of outdoor adventures with the magic of foot reflexology, or start your honeymoon off with a decadent couples massage.
The Latest from the Club Traveler eNewsletter
Tips from our Resort Team:
Discover the benefits of vacation ownership
Experts and recent studies agree that investing in a vacation means investing in your personal health and overall well-being. Learn more about the benefits of vacation ownership with Hilton Grand Vacations. Complete the form below and we will contact you during our hours of operation which are Monday - Friday 10:00 am to 7:00 pm and Saturday 11:00 am to 3:00 pm ET.
Submit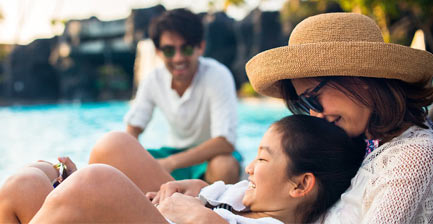 Thank you for your interest! We invite you to complete the form to the left and we will contact you as soon as possible.
Contact Us: 1-800-230-7068
Thank you
Thank you for your submission