Resort Overview
571 W. Elkcam Circle, Marco Island, Florida 34145
Check In: 4:00 PM / Check Out: 10:00 AM
Home Week Check In: Saturday
Important Information
Resort Not Bookable
Reservations cannot be booked online. Please contact a Club Counselor to make a reservation.
Accommodations
Only active Club Members can view available dates
-
Size sqft
Accommodates guests
Floorplan
Mobility & Hearing Accessible with Bathtub
Hearing Accessible
Mobility Accessible with Roll-in Shower
Mobility Accessible with Bathtub
Mobility & Hearing Accessible with Roll–in Shower
Mobility & Hearing Accessible with 3'x3' Transfer Shower
Resort Details
Amenities & Features
Accommodations
Resort Features
Address and Contact Info
+1 239-393-3460
Things to Do
Naples Zoo
Get an up-close look at Florida's wildlife at the Naples Zoo, located in Downtown Naples. The Zoo offers animal and wildlife programs along with botanical exhibits. Their tropical garden was founded in 1919 with the animal exhibits introduced 50 years later. 1590 Goodlette-Frank Rd., Naples, FL 34102
Naples Botanical Garden
Located just a short drive from the resort toward Downtown Naples, the Naples Botanical Garden is a relaxing atmosphere for children and adults to visit and explore. It offers multiple gardens, monthly themes, and activities for the whole family throughout the year. 4820 Bayshore Dr., Naples, FL 34112
Dreamlander Tours
Dreamlander Tours offer a number of different tour options that specialize in dolphin and alligator sightseeing as well as world-class fishing excursions. Dreamlander Tours also offers a special backwater fishing tour with a chance to catch up to 100 different species of fish. 221 Goodland Dr., Marco Island, FL, 34140
The Latest from the Club Traveler eNewsletter
Tips from our Resort Team:
Discover the benefits of vacation ownership
Experts and recent studies agree that investing in a vacation means investing in your personal health and overall well-being. Learn more about the benefits of vacation ownership with Hilton Grand Vacations. Complete the form below and we will contact you during our hours of operation which are Monday - Friday 10:00 am to 7:00 pm and Saturday 11:00 am to 3:00 pm ET.
Submit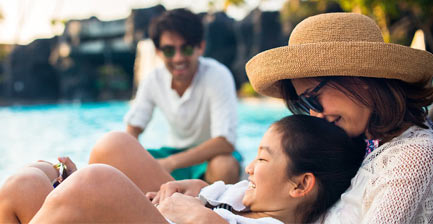 Thank you for your interest! We invite you to complete the form to the left and we will contact you as soon as possible.
Contact Us: 1-800-230-7068
Thank you
Thank you for your submission