Resort Overview
69-425 Waikoloa Beach Dr., Waikoloa, Hawaii 96738
Check In: 4:00 PM / Check Out: 10:00 AM
Home Week Check In: Saturday
Important Information
Resort Not Bookable
Reservations cannot be booked online. Please contact a Club Counselor to make a reservation.
Accommodations
Only active Club Members can view available dates
-
Size sqft
Accommodates guests
Floorplan
Hearing Accessible
Mobility Accessible with Roll-in Shower
Mobility & Hearing Accessible with Roll–in Shower
Mobility & Hearing Accessible with Bathtub
Mobility Accessible with Bathtub
Mobility & Hearing Accessible with 3'x3' Transfer Shower
Resort Details
Amenities & Features
Accommodations
Resort Features
Address and Contact Info
+1 808-886-5900
Things to Do
Kohala Spa
Sun - Sat
Hilton Waikoloa Village
Indulge in luxurious spa experiences with treatments such as massages, body scrubs and wraps, skin care, salon services, and fitness and wellness offerings. Enjoy the scents of Waikoloa with Kohala's unique and exotic skin and hair care products and accessories, such as the signature, world-famous line of products, Coco Mango. Note: various areas of the spa open at different times. Please contact the spa or front desk for more information.
8:00 AM - 6:00 PM
Waikoloa Beach Golf
Sun - Sat
69-600 Waikoloa Beach Dr., Waikoloa Village, HI 96738
Enjoy a unique spirit of adventure and admire beautiful views of the shimmering Pacific Ocean and rugged lava coast. Explore two of the Big Island's best golf courses, the Kings Course and the Beach Course.
12:00 AM - 12:00 AM
Queens' Marketplace
Explore this 116,000-square-foot shopping oasis located in the heart of the Waikoloa Beach Resort. Offerings include Island Gourmet Markets, Romano's Macaroni Grill, Sansei Seafood, Steak & Sushi Bar, Quiksilver, PacSun and more.
Legends of Hawaii Luau
Experience the most popular Luau on Hawaii Island - Legends of Hawaii, our Big Island Story, which brings to life the ancestral song (mele) and dance (hula) that retell the epic stories of Hawaii and her remarkable people. Located at the Hilton Waikoloa Village Hotel. Sunday, Tuesday, and Friday. Doors open at 5:30 pm. *Reservations required.
Island Gourmet Markets
Located in Queens' Marketplace, Island Gourmet Markets brings the freshest food directly from Hawaii's best farms. Choose from gourmet items from the Island and around the world, or enjoy exquisite deli, selection of fine wines and spirits, and a relaxing cup of Kona's best coffee. Also, browse through a variety of local and logo apparel, beach needs, prescriptions and cosmetics, as well as gifts and souvenirs.
The Latest from the Club Traveler eNewsletter
January 2021
Learn about changes to your Club program so you can maximize your membership in the New Year
Tips from our Resort Team:
Discover the benefits of vacation ownership
Experts and recent studies agree that investing in a vacation means investing in your personal health and overall well-being. Learn more about the benefits of vacation ownership with Hilton Grand Vacations. Complete the form below and we will contact you during our hours of operation which are Monday - Friday 10:00 am to 7:00 pm and Saturday 11:00 am to 3:00 pm ET.
Submit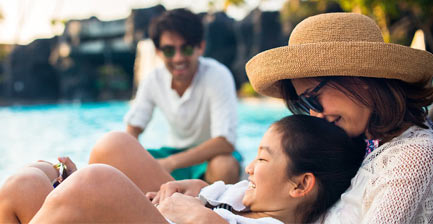 Thank you for your interest! We invite you to complete the form to the left and we will contact you as soon as possible.
Contact Us: 1-800-230-7068
Thank you
Thank you for your submission