Resort Overview
2023 Kalia Road, Honolulu, Hawaii 96815
Check In: 4:00 PM / Check Out: 10:00 AM
Home Week Check In: Friday
Important Information
Resort Not Bookable
Reservations cannot be booked online. Please contact a Club Counselor to make a reservation.
Accommodations
Only active Club Members can view available dates
-
Size sqft
Accommodates guests
Floorplan
Hearing Accessible
Mobility Accessible with Roll-in Shower
Mobility & Hearing Accessible with Roll–in Shower
Mobility & Hearing Accessible with Bathtub
Mobility Accessible with Bathtub
Mobility & Hearing Accessible with 3'x3' Transfer Shower
Resort Details
Amenities & Features
Accommodations
Resort Features
Address and Contact Info
+1 808-983-7500
Things to Do
Owner Social
Fri
3rd Floor Arrivals/Departures Lounge
Coffee Social featuring Hawaiian Paradise Coffee Company
11:00 AM - 11:30 AM
Stand Up Paddleboard Yoga (SUP Yoga)
Mon, Tue, Wed, Thu, Fri, Sat
Group classes held daily (excluding Sunday) Beginners to advanced are welcome. 90 minutes. Session starts with a gentle paddling warm-up. After warm-up we anchor the boards and we start our yoga session on our "floating mats" with a few stretches and movements, connecting with our breath. This class starts with basic Hatha yoga poses flowing into more intermediate/advanced pose variations depending on each individual's level. Reservations required 24 hours in advance Cost: $59* per person *Hawaii State GET Tax (4.712%) will be added
8:15 AM - 10:00 AM
Waikiki Beach Activities
Tue, Fri
Surf Tent in front of the Rainbow Tower
"Surfing is one of Hawaii's greatest contributions to the world. It is the ancient sport of Hawaii's Kings and Queens, and carries with it Hawaii's rich traditions and cultural values and the true meaning of Aloha. Come and meet a true Hawaiian legend and master surf instructor, Errol Kane, at Waikiki Beach Activities' complimentary "Talk Story" introduction to surfing and stand up paddleboarding. "Talk Story" sessions begin with Errol giving an overview of how to surf Duke's famous surf breaks and stand up paddleboarding in Duke's Lagoon. They are held each Tuesday and Friday morning from 11 a.m. to 11:45 a.m. at the Surf Tent in front of the Rainbow Tower."
11:00 AM - 12:00 PM
Waikiki Aquarium
Enjoy a day at the Waikiki Aquarium. Founded in 1904, it is the second oldest public aquarium in the United States. Open Daily from 9:00 a.m. - 4:30 p.m.
Wahine hi'u i'a (Mermaid) Program - Waikiki
"Experience Waikiki's first Wahine hi'u i'a (Mermaid) program only at Hilton Hawaiian Village! Explore the Duke Kahanamoku Lagoon with a mermaid guide in your own custom mermaid tail. This unforgettable and immersive experience is perfect for those who are curious to know what it's like to swim exactly like a mermaid!" "Tours are offered Tuesday, Friday, Saturday, and Sunday at 10 a.m., 12 p.m., and 2 p.m. Tours last 1 to 1.5 hours. Program is open to ages 3 years and up." (888) 904-4088 from 8 a.m.-5 p.m., or visit any Waikiki Beach Activities Stand, Hilton Concierge Desk, or Port Waikiki Cruises Kiosk.
The Latest from the Club Traveler eNewsletter
January 2021
Learn about changes to your Club program so you can maximize your membership in the New Year
Tips from our Resort Team:
Discover the benefits of vacation ownership
Experts and recent studies agree that investing in a vacation means investing in your personal health and overall well-being. Learn more about the benefits of vacation ownership with Hilton Grand Vacations. Complete the form below and we will contact you during our hours of operation which are Monday - Friday 10:00 am to 7:00 pm and Saturday 11:00 am to 3:00 pm ET.
Submit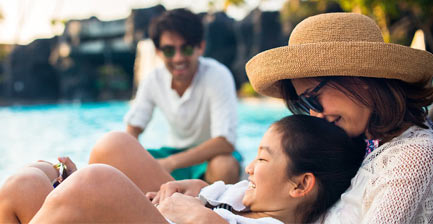 Thank you for your interest! We invite you to complete the form to the left and we will contact you as soon as possible.
Contact Us: 1-800-230-7068
Thank you
Thank you for your submission