Resort Overview
455 Karen Avenue, Las Vegas, Nevada 89109
Check In: 4:00 PM / Check Out: 10:00 AM
Home Week Check In: Friday
Important Information
Resort Not Bookable
Reservations cannot be booked online. Please contact a Club Counselor to make a reservation.
Accommodations
Only active Club Members can view available dates
-
Size sqft
Accommodates guests
Floorplan
Mobility & Hearing Accessible with Bathtub
Hearing Accessible
Mobility Accessible with Roll-in Shower
Mobility Accessible with Bathtub
Mobility & Hearing Accessible with Roll–in Shower
Mobility & Hearing Accessible with 3'x3' Transfer Shower
Resort Details
Amenities & Features
Accommodations
Resort Features
Address and Contact Info
+1 702-946-9200
Things to Do
The LINQ Promenade
The LINQ Promenade offers several different experiences all in one place at the heart of the Las Vegas Strip. The focal point is the High Roller, a 520-foot observation wheel - the tallest in the world - offering 360-degree views of the Las Vegas valley. Talk about being in the center of all the action! This high-energy marketplace offers approximately 40 shops and restaurants in a 200,000-square-foot area. Hours vary by season.
Miracle Mile Shops
Visit the Miracle Mile Shops for a wide range of restaurants and live entertainment.
High Roller Observation Wheel
Measuring 520 feet in diameter, the High Roller eclipses both the London Eye and Singapore Flyer in size. Facing north and south (parallel to Las Vegas Boulevard), the wheel takes 30 minutes to complete one full revolution and features 28 glass-enclosed cabins with broad views of the famed resort city. Each spherical cabin can hold up to 40 people. There are benches on either side of the cabin, with plenty of floor space in between. Hours vary by season. 3545 S Las Vegas Blvd, Las Vegas, NV 89109
The Latest from the Club Traveler eNewsletter
Tips from our Resort Team:
Discover the benefits of vacation ownership
Experts and recent studies agree that investing in a vacation means investing in your personal health and overall well-being. Learn more about the benefits of vacation ownership with Hilton Grand Vacations. Complete the form below and we will contact you during our hours of operation which are Monday - Friday 10:00 am to 7:00 pm and Saturday 11:00 am to 3:00 pm ET.
Submit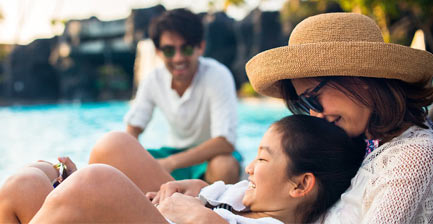 Thank you for your interest! We invite you to complete the form to the left and we will contact you as soon as possible.
Contact Us: 1-800-230-7068
Thank you
Thank you for your submission