Resort Overview
475 E. Bay Street, Charleston, South Carolina 29403
Check In: 4:00 PM / Check Out: 10:00 AM
Home Week Check In: Saturday
Important Information
Resort Not Bookable
Reservations cannot be booked online. Please contact a Club Counselor to make a reservation.
Accommodations
Only active Club Members can view available dates
-
Size sqft
Accommodates guests
Floorplan
Mobility Accessible with Bathtub
Hearing Accessible
Mobility Accessible with Roll-in Shower
Mobility & Hearing Accessible with 3'x3' Transfer Shower
Mobility & Hearing Accessible with Bathtub
Mobility & Hearing Accessible with Roll–in Shower
Resort Details
Amenities & Features
Accommodations
Resort Features
Address and Contact Info
+1 843-974-3300
Things to Do
Calhoun Coffee Collective
Coffee Shop
On-Property
Here at Calhoun Coffee Collective, we believe in keeping it local. That's why, we are working with local companies to bring you some of Charleston's favorites such as King Bean Coffee Roasters, Charleston Tea Plantation, and Callies' Hot Little Biscuits. In addition to these local favorites, we offer a variety Salads, Sandwiches, and Desserts.
The Muddle Bar
Drinks, Lite Bites
On-property
Much like muddling ingredients in a cocktail, here at Muddle we are aimed at bringing out and binding the flavors of Charleston to every guest experience. We may be new to the area, but we are far from new to the industry. We are beyond grateful to be able to share our knowledge and showcase the love we have for our craft alongside the many highly regarded restaurateurs and mixologists in our neighborhood. We offer a full service bar along with craft cocktails and a rotating local beer. The Muddle Bar: Hours of operation are 3pm - 10pm, daily in-season, 3pm - 10pm Wednesday - Saturday off-season.
(843)-793-1968
The Latest from the Club Traveler eNewsletter
Tips from our Resort Team:
Discover the benefits of vacation ownership
Experts and recent studies agree that investing in a vacation means investing in your personal health and overall well-being. Learn more about the benefits of vacation ownership with Hilton Grand Vacations. Complete the form below and we will contact you during our hours of operation which are Monday - Friday 10:00 am to 7:00 pm and Saturday 11:00 am to 3:00 pm ET.
Submit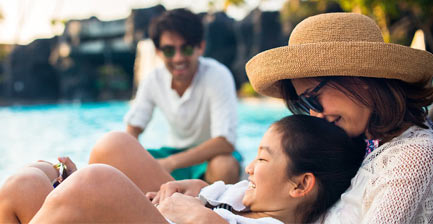 Thank you for your interest! We invite you to complete the form to the left and we will contact you as soon as possible.
Contact Us: 1-800-230-7068
Thank you
Thank you for your submission