Resort Overview
1594 Marbrisa Circle, Carlsbad, California 92008
Check In: 4:00 PM / Check Out: 10:00 AM
Home Week Check In: Sunday
Important Information
Resort Not Bookable
Reservations cannot be booked online. Please contact a Club Counselor to make a reservation.
Accommodations
Only active Club Members can view available dates
-
Size sqft
Accommodates guests
Floorplan
Mobility & Hearing Accessible with Bathtub
Hearing Accessible
Mobility Accessible with Roll-in Shower
Mobility Accessible with Bathtub
Mobility & Hearing Accessible with Roll–in Shower
Mobility & Hearing Accessible with 3'x3' Transfer Shower
Resort Details
Amenities & Features
Accommodations
Resort Features
Address and Contact Info
+1 760-828-4520
Things to Do
7 Mile Kitchen
Contemporary American
5500 Grand Pacific Drive Carlsbad, CA 92008
Located on a rustic hilltop setting overlooking seven miles of Carlsbad coast, pizza and gourmet burgers are affectionately crafted to perfection, paired with a curated selection of San Diego's favorite brews.
1 760-827-2800
The Cove Bar & Grill (temporarily closed)
American, Snacks
The Cove is located in the heart of the MarBrisa campus.
Relax poolside or at Palm Court as you enjoy casual dining at its finest. Cool off with a delicious cocktail or your favorite beverage, the perfect complement for our tempting tacos, sandwiches and other southern California light fare.
1 760-827-2800
Twenty/20 - Temporarily Closed
International
5500 Grand Pacific Drive Carlsbad, California 92008
With picture-perfect views of the Pacific coastline, 20|Twenty at The Westin Carlsbad Resort & Spa, is a leading Carlsbad restaurant, offering an elegant yet casual dining experience that caters to a wide range of tastes, perfect for breakfast, lunch or dinner.
760-827-2500
San Diego Zoo
Home to thousands of animals and plants, the world-famous San Diego Zoo offers an incredible wildlife experience. Enjoy a fun day surrounded by nature and your favorite animals. Hours may vary. 2920 Zoo Dr., San Diego, CA 92101
SeaWorld San Diego
SeaWorld San Diego allows you to experience the best of sea life and family-friendly entertainment. 500 Sea World Dr., San Diego, CA 92109
The Latest from the Club Traveler eNewsletter
Your Essential Guide to Carlsbad
Expert tips from HGV for planning the perfect trip to Carlsbad, California's most charming city.
Tips from our Resort Team:
Discover the benefits of vacation ownership
Experts and recent studies agree that investing in a vacation means investing in your personal health and overall well-being. Learn more about the benefits of vacation ownership with Hilton Grand Vacations. Complete the form below and we will contact you during our hours of operation which are Monday - Friday 10:00 am to 7:00 pm and Saturday 11:00 am to 3:00 pm ET.
Submit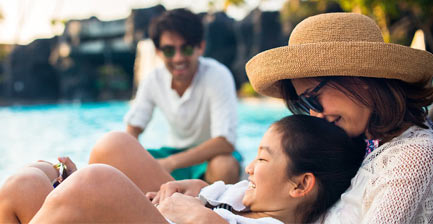 Thank you for your interest! We invite you to complete the form to the left and we will contact you as soon as possible.
Contact Us: 1-800-230-7068
Thank you
Thank you for your submission